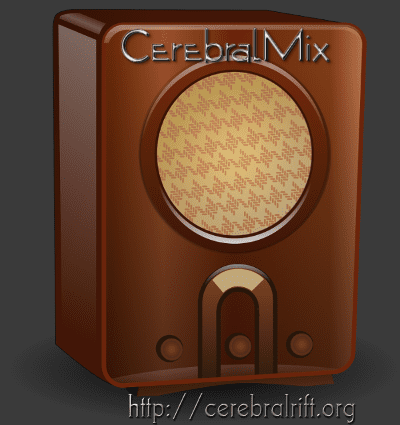 CerebralMix Episode 8: Beyond & Before The Herd
July 18, 2010
I'd like to start with a correction to last week's episode. I listed off the names of several Taped Rugs Productions ensembles. Unfortunately, I mis-named one them as "-RE". There is no ensemble named "-RE" on the Taped Rugs roster. My apologies for any confusion this may have caused.
Last week we focused on the Herd of the Ether Space: the sheer volume of output over approximately 10 years (primarily from the mid-1980's to mid-1990's, with a final recording in 2001) made them worthy of singular focus for an episode.
As suggested by the list of ensembles in the previous show, there has been quite a bit more outside of the Herd. -ING was likely the first ensemble produced by Taped Rugs back in 1980, however after about 1984 -ING gave way to the Herd.
Since the Herd, ensembles like Disism and Turkey Makes Me Sleepy, as well as various solo and ensemble works by Charles Goff III have filled the roster of Taped Rugs Productions.
One of the more interesting series of recordings came about when Goff decided to "tour" the southern United States in 2006 visiting various home taping artists he had known throughout the years. And, another solo work of Goff's is one of the most revealing releases produced by Taped Rugs.
This episode presents an array of the various projects Taped Rugs Productions has produced. Even if it cannot represent the complete range of ideas that have come about over the years, it hopefully represents a range of styles, textures and ideas that form a thumbnail sketch of the diversity and eclecticism of this unique underground label.
Finally, a quick reminder of Charles Goff III's upcoming performance at the KC Regional Electro-Music festival on Friday, July 23, 2010. More information on the event will be on the CerebralRift website. (This information has been lost to time…)
And now, part two of our journey into Taped Rugs Productions.
Track list:
-ING: Hallways Therapy Aquarium (from Banana Republic Dictatorship)
Disism: Contra Mantra (from 60 seconds Left)
Turkey Makes Me Sleepy: I Dropped Science on the Taped Rug (from Six With Pix)
Hart / Goff / McGee: Ice And Ice (from Meshed Mixages)
Charles Goff III: Improv w Variations on Rosie Notes (from Taped Rugs Uncooked Vol 9: Somnolency)
Goff / McGee / Chadwick: I Feel Terrific (from Taped Rugs 06 / 06 Tour Of The Southeast USA: Florida)
Charles Goff III: Ei Bod Fy Darfelydd (from Sweat On A Blacksmith's Apron)
All tracks in this weeks episode were released under a CreativeCommons Attribution / Non-Commercial / No Derivatives License.
I would like to take this last opportunity to mention Charles Goff III's upcoming performance at the KC Regional Electro-Music Festival on Friday July 23rd, 2010 @ 7pm.
#music #eclectic #podcast #Creative Commons #CharlesGoff #TapedRugProductions