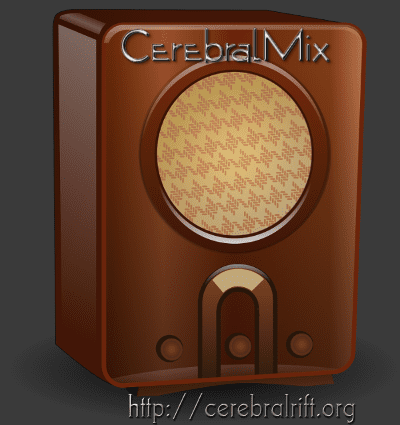 Fantastic Alternate Universes…
CerebralMix Episode 18: Fantastic Alternate Universes…
September 26th, 2010
Fat Chance Lester is a new group that has just released two albums under CreativeCommons licenses. When I was asked to listen to them and consider doing a "release party" show on CerebralMix, I jumped at the chance. Why? The request came from Klaatu, who, as I have come to know, has an interesting range of music interests. I knew that even though I hadn't heard of Fat Chance Lester before the music would be interesting and be something that listeners of The CerebralMix would likely find interesting.
So, this week, along with the Juiced Penguin OggCast, I am happy to present the release party for Fat Chance Lester. Their unique sound pulls on many influences in prog-rock and jazz to form a tribute to many of the pulp-fiction stories of the past that most geeks and nerds are familiar with. I hope you will have fun exploring Fat Chance Lester's Fantastic Alternate Universes…
Track Credits
All tracks this week come from The Fantastic Alternate Universes of Fat Chance Lester. You can find them on SoundCloud.
All the following tracks from The Fantastic Alternate Universes of… by Fat Chance Lester are under a CC BY-SA license except where stated otherwise.
00:00:00 Opening: Broken Music Box From Hammerpants By Transient [CC BY-NC-SA]
00:12:21 Gas Mask
00:15:40 Three Million Square Miles
00:19:50 ID Break: Zone from Hammerpants by Transient [CC BY-NC-SA]
00:33:20 The Plot to Save the World
00:39:08 Utopioid
00:53:05 Closing: Broken Music Box from Hammerpants by Transient [CC BY-NC-SA]
Show Credits
For more information on the selections in this weeks show, visit the CerebralRift. [Note: Show notes are no longer hosted on The CerebralRift.]
You can follow the CerebralMix on Facebook, identica, last.fm, twitter and MySpace. Check the CerebralMix website for links.
Licenses for all episodes of the CerebralMix are registered on the CreativeCommons Network. A link to the CreativeCommons Network can be found on the CerebralMix website.
And finally, the CerebralMix is a one hundred percent OpenSource produced show. All software used in the production of the show is open source. All of the music used in the show is either CreativeCommons Licensed, Public Domain, or released under a compatible license.
Closing Note
This concludes the first ever release party on the CerebralMix.
Thanks to Klaatu for honoring me with the opportunity to premiere this very fine recording!
I hope you will join me again for another journey to the sounds between thoughts on The CerebralMix.
#podcast #music #eclectic #Creative Commons #rock #progressive