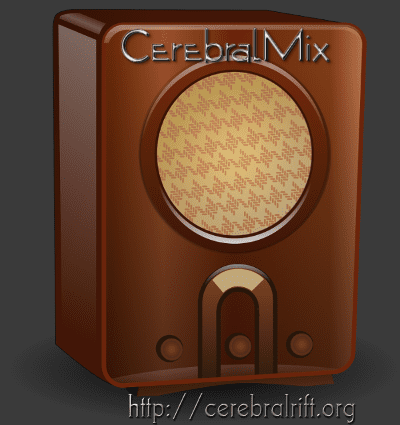 CerebralMix 2010 Episode 9: JBM I
July 25, 2010
After two weeks of some seriously challenging compositions I decided I just wanted to play a bunch of electronica tunes this week with no theme or specific subject. There may be a few pieces that will tickle your funny bone, and a couple of slight twists here and there from artists who make it seem all too easy.
But otherwise, this is Just a Bunch of Music on this episode of the CerebralMix.
Track credits:
Mikael Fyrek: My Lips Are Turning Blue (from: A Thousand Years And One)
Twonk: Oh Tom Madness (from TWK NET01)
Professor Kliq: Dream Sequence (from: The Scientific Method, Volume II: Experiments in Sound & Perspective)
Just Plain Ant: Restless (from: Songs About Something)
Heath Yonaties & K.M. Krebs: Cracks In The Earth (from: The Seed Project)
Da-D-Da: D-Dada (from: A Toy)
Burke: Redeem (from: Riding In A Fail Boat)
Mikael Fyrek: Submarine Light (from: I Can Finally See What Darkness Looks Like)
Planet Boelex: Soft Shapes (from: Raja)
Da-D-Da: A Toy 2 (from: A Toy)
Closing:
Thanks for listening to this weeks show. I hope you will join me again in this continuing exploration of the sounds between thoughts on the CerebralMix.
#podcast #music #eclectic #CreativeCommons #electronic #funk