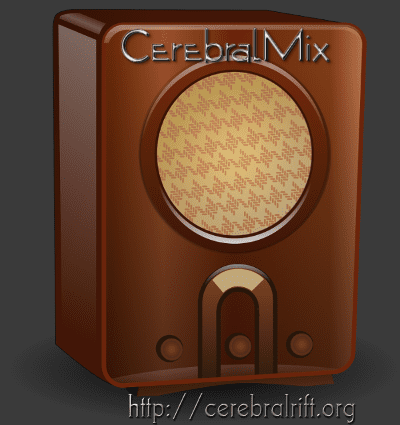 The first show from the original CerebralMix series. This was purely a podcast. The microphone I was using sucked, and only got worse until I got a better one. I was trying to set the tone of being an eclectic music mix show at this point.
Original Show Notes:
The first official episode of The CerebralMix Podcast. The CerebralMix spans as many genres seamlessly as it can. Rock, pop, hip-hop, funk, pop, avant garde, micro-tonal, and more.
Notes
[00:00] Opening Backing Music – Transient: Broken Music Box (Hammerpants)
Part One:
[01:32] Atomic Opera: Rain Parade (Alpha and Oranges)
[04:56] Chimerical Child: Serene (Bright Beats in Charming Colors)
[09:30] doublethink: She's My Heroine (Dawn – Je Ne Crois)
[13:11] K.M. Krebs: Surfacing Briefly (Symmetries)
[20:46] Northbound: Forward (Landscapes of Late)
[26:00] Sonic Wallpaper: Composed in Thin Air
Part Two:
[31:54] Electric Frankenstein: Get Off my Back (Comquers the World)
[34:36] Joe Frawley & Rachel Rambach: ext (Angel Boxes)
[36:00] Roberto Clementi: About To Go (I Knew It)
[42:18] Aeterna Anima: Maya's Lullaby (Where is The End of Voidism?)
[49:01] PeerGynt Lobogris: Circles (Obsessions Time)
[51:37] Aleksi Eeben: Avaruusmiehen lyhyt matka (Spaceman's Little Expedition)
[54:55] Graphiqsgroove: Bleuacide (Graphiqsgroove 2009)
[1:00:06] Track Credits, Feedback and Closing