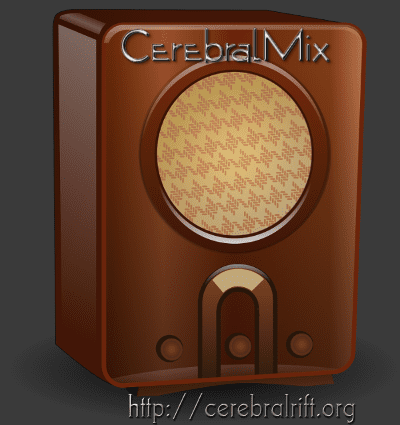 The Herd of the Ether Space
CerebralMix Episode 7: The Herd of the Ether Space
July 7, 2010
-ING, -RE, Disism, Herd of The Ether Space, and Turkey Makes Me Sleepy are just few of the names Charles Rice Goff III along with various other performers has recorded under for Taped Rugs Productions over the past 30 years.
Yes, I'd never heard of these groups either. Taped Rugs Productions is a true underground label that was started by Charles Goff as part of the home taping movement. Unlike the music typically found on the internet, Taped Rugs Productions produced cassette tape recordings that were sold in local music stores and by mail, eventually moving online as the Internet became popular.
Recently, Charles Goff started uploading the back catalog of Taped Rugs Productions to the Internet Archive, over 170 releases from the past 30 years including audio and video, some of which had not been previously released by Taped Rugs Productions in any form.
And now, on July 23rd, Charles will be performing at the KC Regional Electro-Music Festival, marking the 30th Anniversary of Taped Rugs Productions. The show will include the first live performances of several pieces. More information about the show can be found on the CerebralRift website, including links to Taped Rugs Productions the KC Regional Electro-Music Festival websites. (These notes / information have been lost to time…)
This week, the CerebralMix presents several pieces by Herd of the Ether Space in the first of a two part series looking at Taped Rugs Productions.
Track Credits:
All pieces this week were performed by the Herd of The Ether Space from the Tape Loop Improvisation series, and used with the permission of Charles Goff:
3 Fourthing (from Volume One, July 4th, 1984)
Level Four (from Volume Sixteen, February 19th, 1989)
Praise The Lord (from Volume Fifteen, February 5th, 1989)
That's All (from Volume Fifteen, February 5th, 1989)
#podcast #music #eclectic #CreativeCommons #TapedRugsProductions #HerdOfTheEtherSpace #CharlesGoff