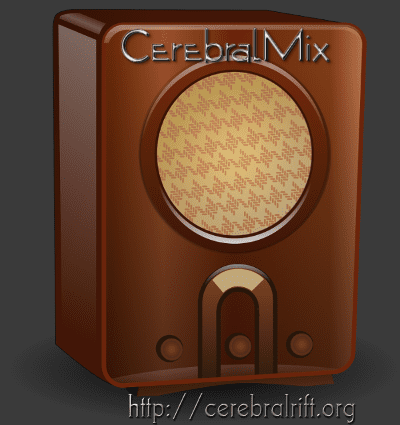 From the Comfort Stand Vaults
CerebralMix 2010 Episode Six: From the Comfort Stand Vaults
July 3rd, 2010
Internet time doesn't function like time in the real world. On the Internet anything that has been around for more than a few years is considered old. Back in what could be considered the "early days" of Internet music, one netlabel managed to make a remarkable mark on Internet music by releasing just about anything they could find: found sounds, cheesy lounge music, highly experimental and avant-garde music, remixes and mash ups and even a high school swing choir / glee club's un-copyrighted recordings.
The label was called Comfort Stand Recordings – a kind of "outsider music" netlabel. Even though the Comfort Stand only existed for 2.5 years (from 2003-2006), they had 80 releases, 8 compilations and 16 singles, all of which are still available from their website (comfortstand.com).
This remains a remarkable feat by nearly any standard. Today, most netlabels are lucky to issue a release a month. 80 releases in 30 months is astonishing. To have as varied and wide ranging releases takes a very special group of people to put together. Not only the artists, but the staff of the label understanding the whole range of music, and not pigeon-holing the label into a single style. More amazing is the comfort stand audience. And, they did have an audience. Many of their releases are top downloads on the Internet Archive, and one releases remains one of the top-downloaded netlabel releases of all time.
Here's the thing about the Comfort Stand: While these recordings are unusual, quirky, and more divergent than many of the releases you will find on the big websites today, many of the creators are still working with sound or music in some manner. Many of them are still releasing works on other netlabels, as either Creative Commons licensed works, or as commercial releases. Many of these artists have grown and changed over the last four years, growing either more quirky or more mainstream, but still maintaining their love for the music.
So, we pay tribute to The Comfort Stand this week. So sit back and enjoy these 24 tracks from the Comfort Stand Vaults.
Track Credits
Part One
——–
Lee Rosevere "Ascent" from Interplanetary Materials
Jan Turkenburg "In My Spaceship" from Interplanetary Materials
Astroslut "Love Theme From Astroslut" from Two Zombies Later
Dale "Part 1" from Meet You At The 7-Eleven
Eddie The Rat "Lip-Synching At Zero-Gravity" from Lip-Synching At Zero-Gravity
Edith Frost "On Hold" from Demos
Martinibomb "The Love God" from Wakka Chikka Wakka Chikka
Flavia & The Motonets "El Tren" from Comfort Cake
Part Two
——–
Karen "Hello Everybody" from Party Fun With Recorders
Beef Humper "Sweater Girl (Top Billin' Rmx)" from the Glorious Future of Mankind 2
DJ Freshmoney "Whammo" from Two Zombies Later
David "Pick The Goobers Out" from Party Fun With Recorders
Lanark "Pacto de silencio" from Ovnis a Mogollon
Bleep "S.I.F" from Datenbergbau
Big City Orchestra "heart track" from boom crash crash
Full Load of King "Ride A Wave To Uranus" Comfort Cake
The Apartment "Electromusetic Sound" from People Doing Strange Things With Electricity Too
Nick Chapman "Take Me Now" from Wakka Chikka Wakka Chikka
Part Three
———
fortyone "hello, it's time for music" from Music That's Bettter Than It Sounds
Chenard Walcker & Roy "Chicky" Arad "monster" from Monster
Mar-Tie "Side B, Track 2 (Tribute to Betoven)" from The Avant-Garde Grandpa
Cell1110 "Cell 1" from St. Meringue
Brion Kinne "Where Did All These Dust Bunnies Come From" from People Doing Strange Things With Electricity Too
lady Bombon vs Gigaboy "Hiak Toyaz" from Stereo-Sonico
#podcast #music #eclectic #CreativeCommons #ComfortStand